A wild, out-of-the-box thought demands to be expressed in carefully crafted paragraphs for the rest of the world to comprehend and admire. This translates to a strong script for films, animations, and other interactive programmes. A well-written script will serve as a road map for your ideas, bringing personalities and plot incidents to life in just the right order to amuse your crowd. This job asks for professional script writers.
Significant scripts necessitate a high level of flexibility. Without specific training and practise, even those with outstanding reading and writing skills find it difficult to create scripts. As a result, it is best to subcontract script writing services to practitioners who are aware of the technical rules of script writing and have prior expertise in the field. Even if you're an artist, hiring trained experts from leading companies like Webgross to write your scripts would help you.
We have the best and finest of script writers in Delhi
We understand the value of a script in producing a good film, sitcom, radio show, or computer game at Webgross. Which is why, for our scripting services in Delhi, we have assembled the best team with exceptional writing abilities, knowledge, and experience. You can recruit us for a one-time writing job, or you can employ us to write daily drafts for your public broadcast shows. We have the most committed script writers in India who Copyscape the script for 100% uniqueness of content and fact check the work for accuracy before you accept it, in addition to finding a talented writer who can ideally suit your business and task for your script. For your script writing services, we guarantee consistency and originality—you'll get nothing less than the best!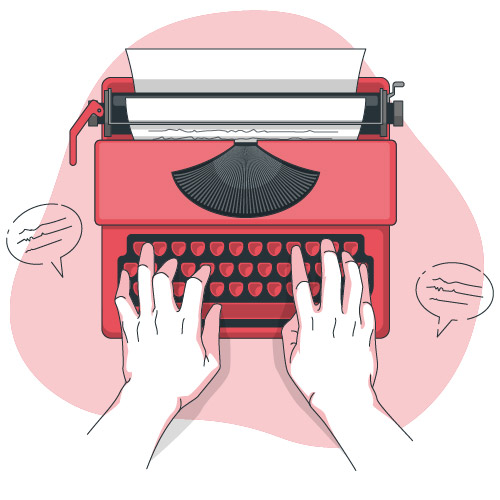 Why must you hire us for script writing services in India?
Our content creation agency in Delhi's script writing services will give you lots of well-written content that fits all the standard punctuation of a great script that could be made into a film, video, or web series in the long term. Our professional writers complete the scripts long before the deadline that you specify. Our low prices have no impact on the quality of our services, and our writers stick to the deadlines. If you are a loyal customer, we give exclusive discounts. Our customer service representatives will direct you to the exact writer you need.
Our

script writers

write for the stage.
Scripts differentiate from most writing in one significant way: unlike most writing, which is intended to be read only, scripts must be executed. This necessitates a specific type of writing ability—even subtle changes in word focus can dramatically alter how a message is received, particularly if the document is being interpreted or read from a prompter. A successful script writer considers the complexities of speech all the time and understands how to write the script that isn't always easy to read but also simple to read aloud.
2.We compose with images in mind.
Video has a verbal and visual vocabulary, and the visual sense of a video will significantly improve the essence of its script. This is crucial to remember because it implies that the text does not have to justify anything. Script writers at our firm are aware of this and know how to take advantage of it. They make the most of photos' narrative ability while keeping the text as short as possible. After all, a photo is worth a million words.
3. We have access to information from the outside world.
It's possible that you know more about your business, company, and message than anyone else, but that doesn't mean you're the right person to write about it. Yes, expert experience is valuable, but clarity can never be sacrificed. Too much business jargon will irritate viewers, who prefer stuff to be "given to them." Our script writing services consider the viewer at all times and will work to make the message meaningful and available to as many customers as possible.
4.We have the ability to condense a long story into a manageable length.
Fairly short videos are usually better, so a document can never be lengthy than it needs to be. This necessitates a certain kind of creative eye—someone who excels at turning drab blocks of text into slick parallels and can identify even the slightest redundant information with sniper-like efficiency. Anything less than a competent script writer will not suffice for this work.
5.We are cost-effective and economical.
Webgross provides low-cost script writing services in Delhi. We make every effort to process items in accordance with your specifications while keeping costs to a minimum. Every time you contact us, you can rest assured that the end result will exceed your expectations and that your investment will be well worth it.
Count on our array of script writing services
At Webgross, we are committed to delivering outcomes that are pleasing to you. Our priority is customer loyalty, and we are always willing to adapt our writing styles to meet your needs. So give our talented script writers an opportunity to translate your abstract ideas into concrete reality while maintaining their core essence. For amazing script writing services, please contact us.
What are the advantages of choosing Webgross ?
Webgross employs experienced, movie script readers with a keen sense of story in a variety of genres. Our writers have the most technical experience, with many having worked with A-list artists and production companies. Webgross provides high-quality coverage and story notes at a low cost and with a quick turnaround.
Do you welcome applications from all over the world?
Yes, we'll address it as long as the document is translated into English. For users whose first language is not English or manuscripts in need of significant editing or linguistic corrections, we give a "extensive fact check."
Are your scripts efficient for use?
Webgross provides some beautiful examples of script writing services. Our website provides information about high-quality script writing, and our experts play an important role in creating effective script writing for your platform. You will never be sorry that you decided to hire us to write your posts.
What city are you in?
Webgross is headquartered in New Delhi, India's capital. We are among the best in Delhi when it comes to having strong script writers. However, we represent clients from all over the world, including the United States, Dubai, Singapore, and Australia. 
How to communicate with you?
It's easy to communicate with our squad! You can contact us by filling out our contact form, emailing us your order, or calling our number at any time.