Ecommerce Website Development Services in Delhi
E-commerce websites create the best atmosphere for buyers and sellers to exchange goods and services to generate profit and consumer satisfaction. Ecommerce website development services cater to emphasizing and providing valuable information that makes buying and selling as easy as pie.
In the ever-growing galaxy of online shopping, consumers are turning towards this easy-to-navigate method to avail of products and services in the comfort of their homes. The Covid-19 pandemic has expedited the usage of online shopping without venturing out while availing of the best products and services delivered at your entrance.
An E-commerce website should be packed with up-to-date information along with obligatory updates in any case of change or discrepancy. If you are in search of a fantastic E-commerce website development company, let us introduce ourselves.
Webgross is a renowned Ecommerce website development company in India that has become proficient at the knacks of curating perfect design and content that entice consumers into joining hands with your company. With Webgross, you get to team up with professionals who take you on a journey of unique thought processes and philosophies.
We value your inputs and entertain last-minute changes that are deemed flawless, in your opinion. We provide all four e-commerce services like B2B portal development services , B2C portal development services without any partiality.
Send An Enquiry!
We respect your privacy & keep all information 100% confidential.
Feel Free To Acquaint Yourself With The Best E-commerce Website Development Services.
Webgross is the top E-commerce website development company in Delhi that offers the best SEO generation, artificial intelligence, quality pieces of content, and Data analysis which is budget-friendly and perfect. Keeping in mind the limitations of online presence and cut-throat competition, we ensure that your company at the highest rank reasoned to incorporate several views and appreciation. We have utmost respect and love for your expectations and our work and mingle both into a package of fruitful results. Once you work with us, you keep coming back to avail of our exceptional services.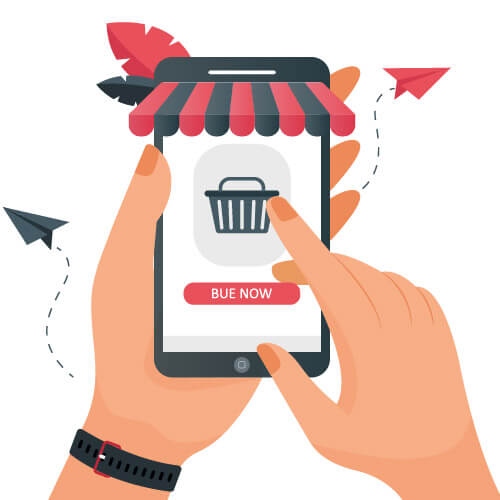 Why Hire Us For Ecommerce Website Development Services.
Being one of the best Ecommerce website development services in India, we must showcase our robust work strategies through our results. When you trust us with your work, we reimburse you for achieving the results that you crave. Your credentials are safe with us, and we go to extreme lengths to protect your transaction privacy and the privacy of the transaction of consumers. You can count on us to achieve quality outcomes.
Use of the latest technologies– As an effective Ecommerce website development company, we use the integration of the latest technology to generate quality results. We integrate technologies like Java, CSS, Python, Mean, and Ruby on Rails to leave no room for imperfection. Unlike a brick-and-mortar store, we condense information with neatness to make navigating products easier.
Best programming language– Our Ecommerce website developer is an expert in coding and programming language needed for the smooth function of your website. We use JavaScript as our top programming language to attain outcomes free from errors. We do not limit our caliber to just one language but experiment with various programming languages and determine the best suitable option, which goes hand in hand with JavaScript.
Brand building– Our Ecommerce website development services focus on brand building and brand reputation. The content we curate builds a unique brand disposition that keeps bringing regular customers back while including new customers under a vast family of a loyal consumer base. We habitually run updates and provide attired closure to confused consumers looking for complete information based on products and services.
Global reach– We develop your website to reach innumerable masses globally and within the country's borders. Our Ecommerce website development services are guaranteed to ensure global reach and create a swarm of loyal customers. We provide versatile services that never fail to impress.
Empowering multi-vendor platforms– We offer top-notch Ecommerce website development services that instill a feeling of faith and loyalty towards your company—multi-vendors flight to avail of your website and establish good rapport among the people. We also use the best CSS integration and efficient API integration to ensure a supple flow of your website.
Embrace Yourself For The Best Ecommerce Website Development Services And Contact Us!
We have gained the esteemed title of being the top Ecommerce website development services in Delhi by sheer hard work and determination. Nothing has seemed to halt us, and nothing will ever seem to stop us from achieving our goals and implementing our ideas. Please get in touch with us at our website's email address and phone number to get the best dealings and services delivered on time.
FAQs
What technology do you use for E-commerce website development services?
As an experienced E-commerce website development company in India, we use the best technologies such as JavaScript, Python, CSS, Mean, and Ruby on Rails to ensure the best functionality and effectiveness in our services. We never leave any space for errors.
What are the best qualities you offer in your services?
We ensure a smooth flow of information and use attractive colors and fonts that speak volumes and complete the desired goal with modesty and simplicity. We focus on global reach and invest in consumer technology along with the generation of a keyword-friendly website. Furthermore, we stem traffic and keep testing our Ecommerce website development services until we don't get the sense of satisfaction. Our promotion is deemed to reach the masses who would not want to join hands with your company.
What are the four types of Ecommerce websites?
The four types of Ecommerce websites are B2B [business to business], B2C [business to consumer], C2C [consumer to consumer], C2B [consumer to business]. As the top Ecommerce website development company in Delhi, we provide development services for all the mentioned types efficiently.
What is the best programming language to develop an Ecommerce website?
JavaScript is the best programming language to develop an E-commerce website. Any other programming language can also give good results based on the goals of your esteemed website. Our Ecommerce developer in Delhi has expertise in coding and uses JavaScript to curate programming language for your website.