Logo Designing Services
A brand's image and identity rely heavily on its logo. Logo designing services create logos that help consumers resonate with a brand's identity and vision and help identify a brand easily. It epitomizes visual cues to people who wish to determine your brand with just a glance.
A good logo is easy to remember, Unique, and at par with other companies. Logos are created using unique fonts, colors, and photoshop techniques which results in a logo that echoes your company's sentiments.
They are an indispensable feature in determining a brand's image and likeness and conveying it to the masses. If you are searching for an efficient logo designing company that can share your brand's ethics and characteristics, we are here to help you accomplish this objective.
Webgross is the top logo designing company in Delhi that hosts various clients internationally. We provide you with skilled logo designers in Delhi that work with you to enterprise a logo that gives an expression to your brand and helps people recognize it with just a single glance.
Our logo designing services are assured of sticking in people's minds and helping them remember your brand in the long run. Our logos grab attention, and each blend of colors signifies desirability and renovation. We provide simple and neat logos that prove to be a tough fight for your competitors and helps your business relate to several people who flock to avail of your services.
Send An Enquiry!
We respect your privacy & keep all information 100% confidential.
Our Previous work
Get Acquainted With Top-Quality Logo Designing Services
Webgross, being a commendable logo designing company in India hosts a team that possesses the necessary skills required to design a logo that creates a sense of loyalty and remembrance for your brand. We possess combinations and skills that stand out and work together in sharing ideas and interacting with clients for triumphing with the best results. We honor our client's demands and make sure that we both benefit professionally and personally.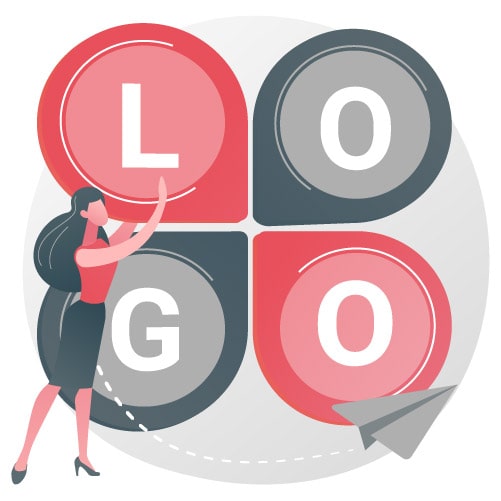 Why Hire Us For Logo Designing Services
Our logo designing services in India echo your company's identification, thereby leading to a flock of loyal customers who want to be a part of your brand. We design distinctive, graphic, and tech-savvy logos that provide an abstract description of the purposes and characteristics of your brand and bury themselves in people's minds with just a solo glimpse.
Stands out of the Competition
Our logo designer in Delhi adds a unique touch to your logo, which stands out from any other company and signifies your brand's sentiments with just a few colors and fonts. We believe in perfection and make sure that we cross-check our final design numerous times while taking our colleague's opinions before sending them over to you.
Logos are a part of brand building and a point of contact between consumers and suppliers. Hence,     building a logo with different colors triggering emotions among the people is a must. Based on your   company's objectives and purpose. As a provider of logo designing services in Delhi, we include a   blend  of colors related to your company's brand personality. Our fonts are also selected after careful   understanding and research.
Versatility
Our logos are created so that no number of prints of pixelation can deteriorate their quality. We incorporate minimum clutter with a decrease in complicated designs and colors so that your logo does not lose its essence during shrinkage. Our logo designer in India has expertise in achieving this hard task.
We value Clientele Relationship
As a  logo designing company, we understand the connection you wish to offer to the consumers with your brand. The longer consumers recall and remember your brand logo, the more likely they are to connect with your brand. We create such versatile and memorable logos that stand at a point from your competitors, giving your business much more relevance and profit.
Not too Flashy
Our logo designing services in Delhi make sure that the simplicity of your logo attracts people to join and participate in your business. Many tend to get turned down by looking at flashy over-the-top logo and crave modesty over quantity. We keep this thought in mind and design your logo to be modest while being fiercely vocal about your brand's purpose and characteristics.
Wait No More and Contact Us for Logo Designing Services
We are one of the top logo designing services in India. Our professional logo designers from Delhi ensure that you keep coming back to us through their hard work and ability to generate mind-bending logos. Our team values your consummation over anything else and makes sure that you find the utmost joy while working with us. Contact us to know more about our logo designing services along with many others that we offer.
FAQs
Why are logos important to your business?
Logos grab attention and create a strong image of your brand with visual cues in people's minds. People learn to identify their brand without reading any reference material, only with the help of logos. Logos create a feeling of connection and appreciation between consumers and your company. By associating with your logo, consumers are tempted to be a part of your sales and services. As a logo designing company, we provide a feeling of togetherness using simple yet vocal logos.
Do logos help in increasing brand loyalty?
Yes, logos play a great role in increasing brand loyalty by creating a feeling of mutual trust and accessibility with your brand. A logo is the first thing that captures consumers attention, who then recognize your brand with much ease. This recognition which ultimately leads to traffic, increases brand loyalty. A logo designer in India sees that most of the population flock to buy your products and services through efficient logo building.
Do logos generate more sales?
Yes, logos generate more sales by sticking in people's minds, leading to them confiding in your brand. Consumers tend to buy products from brands they recollect rather than mere word of mouth or knowledge. This leads to a boost in sales and profits, which helps your business flourish. A logo designing company like ours ensures that the logos created suit your business.
Should logos include light colors or dark colors?
Logo colors depend on the brand's purpose and product management. A company selling children's toys will ensure that its logo has bright colors and a logo on blood donation organizations or appliances prefer having black or dark-coloured logos. A good logo designer in Delhi knows its physiognomies and curates Logo colors based on them.
Are there any hidden charges in your logo designing services?
No! We are a dire believer of transparency so, there can never be any hidden cost in our logo designing services in Delhi.