Social Media Marketing Company in India - Webgross
Social media is undoubtedly the most influential and important virtual space and a platform that is not only for social networking but also for digital advertising for your brand and your products. Social media has a commendable power to reach many people within seconds of posting an ad. It is also helping you to reduce your costs and make your ads reach out to your potential target audience. Only by onboarding a reliable social media marketing company in india, your social campaign gets a new definition.
With the presence of many online users, marketers may never miss out on their chance of marketing on digital forums. Using online platforms can reach a maximum number of potential buyers, unlike print or television media marketing. The influence of a Social Media Marketing agency is no doubt vital to boosting your marketing in modern times. 
It is not surprising that every business, big or small, is investing to boost social media marketing. A professional Social media Company is a potential tool to attract the audience's attention and generate sales. You can find several social media platforms where companies promote themselves for marketing. The most popular social media platforms include Twitter, Facebook, Instagram, YouTube, Snapchat, etc. And guess what? Our world-class SMM services cover it all! 
Social Media platforms offer several advantages. According to the latest trends in marketing, businesses must take this advantage of the use of social media marketing services in India. With advanced social media marketing strategies, companies can reach the target audience. A SMM company does not operate the whole task of marketing your social media presence with an individual person. Instead, the whole management needs dedication and focus for a successful strategy.
We respect your privacy & keep all information 100% confidential.
Reach More To Your Audience with Social Media Marketing Company in India
Webgross, a top-rated social media marketing company in india, provides the best social media services to strengthen your company's brand awareness. Not only that, you can find more audience and attention to your brand. In addition, Webgross provides the best marketing assistance to generate more leads on social media platforms for every company, regardless of size and budget.
We have our most professional expert team to assist you in successfully handling social media campaigns. Our social media marketing agency is always working to elevate your brand's visibility and integrity on all social media platforms. We are among the finest social media marketing company in India serving every part of the country and providing the best marketing assistance to clients. Reach out to your audience and focus more on your sales with us!Inda
Go for The Prime SMM Services with Webgross
Webgross, as a leading social media marketing company in India provides the best marketing assistance on all Social media platforms in the most advanced and easiest way to communicate more with your audience. It is also effective to create your brand's existence and valuation.
We are among the leading marketing companies and always focus on positive outcomes to provide the prime SMM services on social platforms. We are always eager to effectively solve your every query and implement the best tools to provide the best service in marketing.
According to the latest survey, more than 3 billion people in India actively use social media platforms. Webgross is a leading social media marketing company to build a stronger active presence on social media.
Our main focus is to increase the target audience for your brand by planning media campaigns. It works to be more effective to make a strong bond with your audience. With us, you can find more user engagement and effective social media strategies.
You can count on us for the best results by attracting more inbound traffic to your website and social media handles. You can also experience a higher conversion rate through the best promotion of your company's services through the best smm company. 
Our team is the most experienced in social media marketing and smm services. Thus, they have the best knowledge as a  social media marketing company. We aim to build a strong brand image for your company. We make sure to use highly engaging content to attract your audience in the best way possible So, choose us as your reliable social media marketing company and build your brand image stronger and stay ahead of your market competitors.
Let your audience know that you are there in the market, expecting them. Seek help from our social media experts now!
Platforms of Our Social Media Marketing Company in India
We are providing the most standard social media marketing services to our customers. While imparting our services, we focus on many factors so that you can find the best marketing assistance from us according to your needs and preferences. So, you can count on us to get the best packages curated for social platforms. Feel free to contact us for the best marketing guidance. Find the best marketing approach to ensure a stronger and more cherishable relationship with our team. As a social media marketing company in India , we understand that in the modern era of technology, marketing is the most pivotal part of your business. Experience our marketing guidance and find the best social media marketing agency in India.
With us, you can feel like you are a part of our family. With our prime smm services, we assure you that you will find social media marketing to be worthwhile. Our team provides the best effort so that clients can readily choose our services. In our marketing services, we come across different requirements of our clients. To serve you better, you can find various social media marketing services of various categories with Webgross. Our marketing services vary according to different social media platforms. Choose any of our services and feel the best marketing guidance from us. You can get a tailor-made social media marketing package from Webgross, the most trusted SMM company.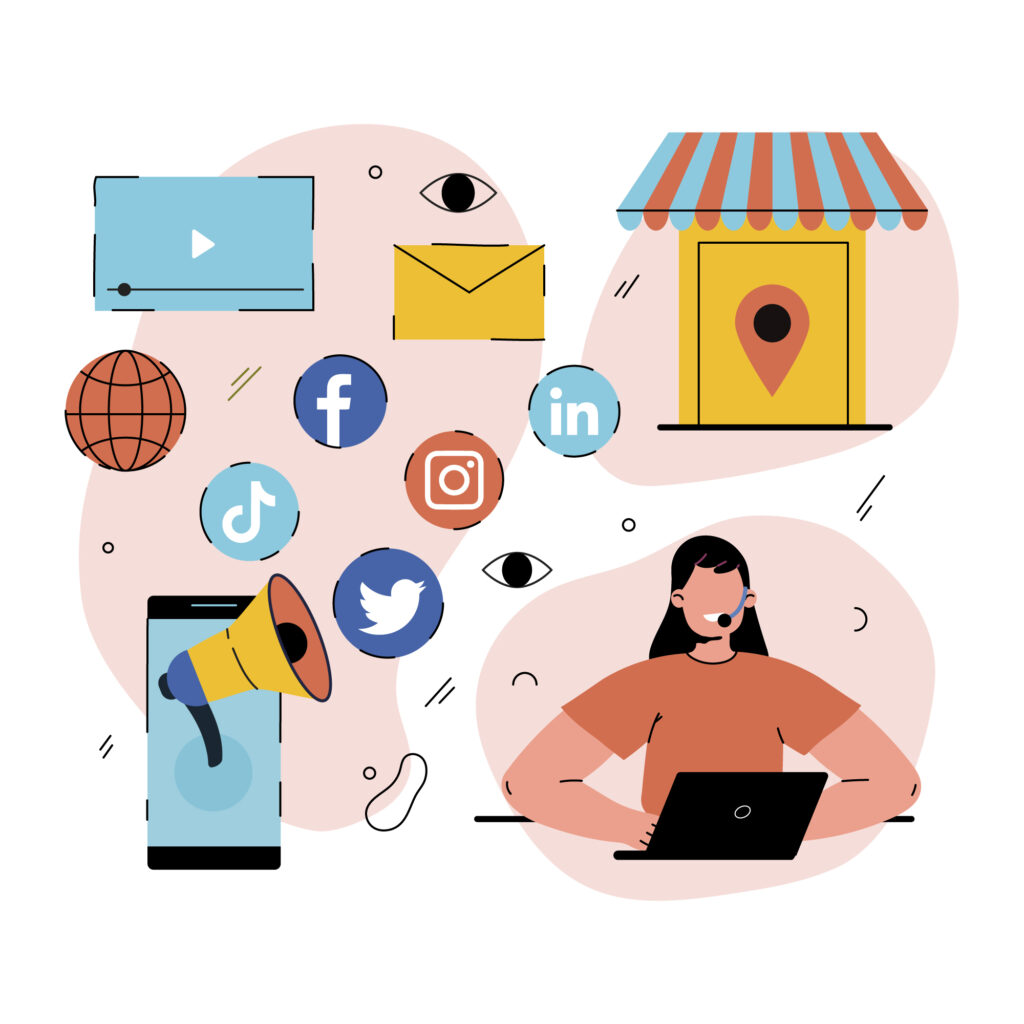 Which social media platforms should my brand give more focus on?
There is no doubt that your business should have a strong social media presence, regardless of the industry. The most common social media platforms are Twitter, Instagram, Facebook, YouTube, SnapChat, etc.
Should we post the same or different content every day on social media?
People search for your brand on different platforms for different reasons, and it is impossible to have the same audience across all platforms. That's why you shouldn't post the same content every day. 
How can I contact your team?
You can directly contact us by visiting our website. 
Should I choose paid social media advertising?
Of course. Paid social media advertising is undoubtedly the best option to raise awareness for your products or services. The best social media companies provide these services.
What are the common mistakes in social media marketing?
Some common mistakes are spamming, multiple profiles on each platform, inconsistency, and lack of interaction with the audience.
Why should I prefer social media campaigns?
Social media campaigns are helpful to create a better brand image and make more brand awareness to your target audience.
Do you provide services to small companies?
Of course, you can reach us even with a small budget to get the best marketing assistance.
Can I get competitors' research through social media marketing?
Social media marketing is the most effective tool to get the best competitors' research. Social media marketing companies are the best to choose to know more about your market competitors.
Who is the target audience?
Custom audience refers to the target audience of your brand who are more interested in your brand but often don't buy products for some reason.