Leaflet Designing Services
A good leaflet design helps the company create a strong environment preferable for producing a mass number of sales. leaflet designing services are advantageous for small startups and small businesses as they are budget-friendly and easy to distribute. Leaflets generate a quick response from the people and summon curiosity to know more about a firm.
Leaflets give rise to long-time promotions with good durability and the ability to promote conversation among the people. They compact dense information with great ease and make it simpler to read the key information without bombarding them with compressed information altogether. If you are searching for a leaflet designing company that creates appropriate leaflets based on your preference, we are here to help you with our services.
Webgross is a renowned leaflet designing company in Delhi that has catered to innumerable clients worldwide. Our services are easy to navigate and understand, and we have the extensive professional background that your company requires.
Our company has proven to stand still in the face of competitors and stands undefeated when it comes to possessing the hunger to crave the best results that benefit our clients. We love serving our clients and seeing them obtain joy and curiosity in our work and continue to do the same.
Lend Your Ears For Hearing About The Perfect Leaflet Designing Services

At Webgross, make sure that our team has the knacks of incorporating different leaflet styles such as the great fold, concertina fold, and cross fold. As the best leaflet designing company in Delhi, we have acquired our reputation through the previous job experiences and the job being presented to us serves our purpose in developing this organization to reach new heights. We make sure that we use the correct font and styles to make your leaflet an eye-capturing one. Our services are cost-friendly, so you don't have to worry about champing your pockets for us.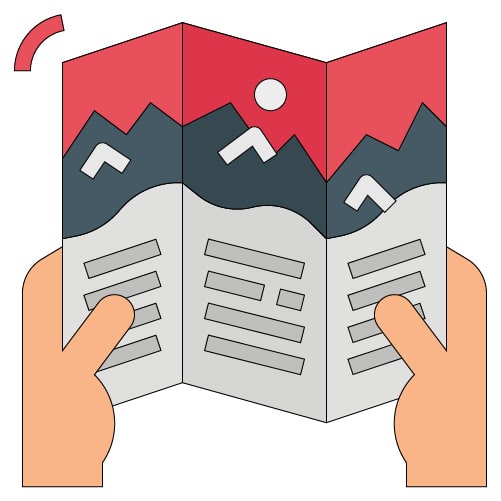 Why Hire Us For Leaflet Designing Services
As a leaflet designing company, we host a team of experts that boast high intellect and knowledge in their fields and serve the purpose of creating the best designs for your company to grow. We have been exposed to various clients who have taught us the importance of sheer hunger for achievable results and determination.
Creative Expression-

Our team of

leaflet designers in India

has the knack for creativity and its proper usage in the corporate world. We design leaflets so that your organization's creative purpose is highlighted on the front page, along with modest fonts and effective curiosity-inducing colors.

Long-term promotion- The

Graphic Designing services

 see that the leaflet they design is suitable for long-term promotion and can withstand gruesome changes to the company, be it good or bad. Our leaflets promote your business and do not lose their charm even after many years!

Return on investments

–

Leaflet designing services

are much low-priced compared to advertisements on TV and in the newspaper. As a well known l

eaflet designing company in Delhi,

we ensure that you obtain an astonishing return on investment after working with us. When ordered in bulk, we provide plenty of offers. Unlike advertisements that are quickly forgotten, our designs are guaranteed to stick in consumer's minds.

Durability and Credibility

– Our

leaflet designing services

stand environmental stressors and do not deteriorate when exposed to them. We make sure to create leaflets so that it does not get boring after some time and still feels new to look at after a long time.

Neatly packed information-

Our

leaflet designing company

is abundant with professionals who know and understand the placement of crucial information without cramping and cluttering. We use the right font and colors that invoke a consumer's psychological response on their path to curiosity.
Wait No More And Use The Best Leaflet Designing Services For Your Benefit!
Webgross is the best leaflet designing company in Delhi and earned this reputation by determination and strong moral principles. We provide an array of services, including leaflet designing. To know more about our services, contact us at our email address or phone number provided on the website.
What should a good leaflet design include?
A good leaflet design includes the right touch of brand colours that resonate with a firm and speak to consumers without being present. A good title and copy also go a long way in generating sales for a firm. Eye-capturing images coupled with a good target audience and distinctiveness make a leaflet unique. Our leaflet designing services see that we don't limit ourselves to just one factor while designing.
What is the standard size of a leaflet?
DL is the standard size for a leaflet depending on the information required to be condensed and curated. It has a long design that many businesses opt for as it leaves space for text and images. However, our leaflet designing company offers A2 and A7 format services while including bold boxes and texts.
What is the ideal font to be used for a leaflet?
The ideal font that most companies opt for is the Helvetica bold, which serves modesty and clearance concerning reading and understanding. But this factor differs from company to company as a comic book company leaflet will use the Comic Sans font. A reputable leaflet designing company understands the purpose of a firm and chooses the correct fonts based on the same.
Do leaflets take up a lot of time in printing?
No, leaflets are quick to print after the completion of the inventive work. We as a whole leaflet designing company completes the given assignment in time and no not delay in the printing process. If you are articulating a last-minute promo show and require an urgency of leaflets, we are here to provide that to you.
How are leaflets handed to the masses?
Leaflets are handed in a packed newspaper as an advertisement or through door-to-door services. Leaflets are also handed over in mailboxes and service packages that are sent across for different purposes. A leaflet is the best form of advertisements that can withstand changes and deal with the same.