Social Media Graphics
Have you ever wanted to attract consumers to double tap on your website when they lay their eyes on it? Have you ever come across outstanding social media graphics that instill a feeling of curiosity to know more? The whole purpose of social media creativity is to act as a magnet that attracts audiences into double-clicking your website and generating traffic.
Social media creativity has a special place when it comes to being used as a marketing tool. It leads to direct recognition of a brand's identity and image. Its ingenious ideas turn the audience upside down in awe! They help deliver designs that capitalize on your brand's personality and reputation. If you are searching for an efficient social media creative company in Delhi to create something creative that will boggle your consumers' minds, look forward to joining us.
Webgross is a reputed social media company in Delhi that designs creatives based on many years of experience under their belt. We know all the innovative solutions to your business ideas and help you bring your ideas to execution with the help of our designs.
We design eye-capturing and emotion-inducing animations and techniques that are bound to create curiosity among the people. Your strategies fit our creativity, and we work hand in hand with you into blossoming your business to reach new heights.
Send An Enquiry!
We respect your privacy & keep all information 100% confidential.
Want to Know More? Read about Our Social Media Graphic Design
As the top social media graphics company in India, our team holds in-depth knowledge about creativity and loves familiarizing it to the corporate world with compelling designs and animations. We begin our research by studying your company and its endeavors. Then we design a pre-planned strategy of visual cues to be included in your website.
Our ideas are open to our expert designers, who bring our concept to life with beautiful designs that have the power to communicate while being present on a screen. Our final product is a well-curated design that fascinates audiences to double-click after a single peak.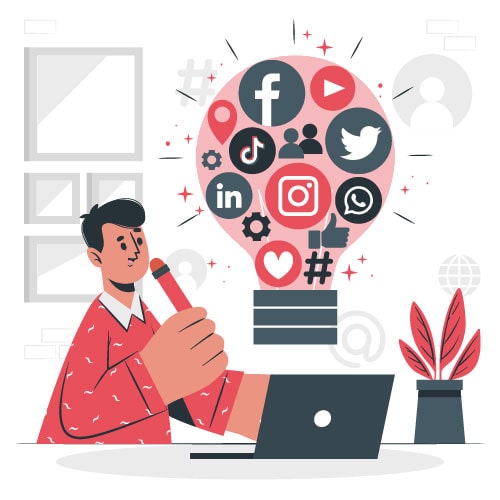 Why Hire Us for Social Media Graphic Design?
As a social media graphics company, we have the knack for bringing your business ideas to life. Our designs speak to your audiences personally and resonate with them like no one else. We assist you in standing at par with your competitors and rank your position higher than them with the help of our services.
Trendy Designs : Our creativity withstand all possibility of being boring and non-appealing even after many years. We design creative that follow the recent popular trends, and we include a touch of savagery coupled with emotion that attracts your target audience. Our social media graphics designer makes sure that you gain appreciation and attention on your website.
Voice to the Voiceless : Our social media creatives services provide voice to the voiceless website and turn bland into attractive. Our ideas are strong, and our work is efficient. We are owners of thousands of backgrounds that compliment your business personality and look enticing.
Importance of Time  Management :  Our social media graphics company functions on punctuality and time management. We complete the given assignment right on time, and our designers are trained to begin the work before time. We do not compromise with the blessing of time and ensure that you obtain your result without any time constraints.
Igniting Colors and Fonts :  As a reputable social media graphics company, We cherry-pick fonts and colors that ignite a quick response among the audiences. Our designs do not fail to impart keenness among the people who indirectly affect your sales and profit boost.
Challenging Competitions :  We provide beautifully and never-seen-before social media creative services that leave your competitors scratching their heads in surprise! Our social media Graphic Designing services from Delhi knows how to repel competitors and attract audiences through their designs.
What Are You Waiting For? Grasp The Amazing Social Media Graphic Design Services
We want nothing more than to make you feel that you can trust and confide In us anytime you want. We see that our social media graphics services bring a leer to your face and make you want to work with us in the future. Please contact us at the email address and number provided on our website to know more about our services.
FAQs
Why is creativity important for social media?
Creativity allows you to mine the consumer's interest and act as a contact mode between you and them. It helps stimulate strong user engagement and facilitates an intense environment where people do not experience loss of interests and bore. A social media creatives designer carries this responsibility to deliver you with the perfect work in his her heart.
What applications do you use to bring your social media creativity to fruition?
As a reputed social media creatives company in India, we make sure that we used non-pirated apps from renowned sources. We utilize apps such as Adobe photoshop, Adobe Illustrator, and Gimpme for designing the best creatives for you. We have the expertise for using these apps and tons of experiences with them under our belts.
How does social media creativity facilitate engagement?
Social media creatives services make sure that audiences are attracted to put nicely and neat designs that fit the context of the firm, which captures their attention and boosts engagement among consumers and the firm owner.
Are social media creative versatile?
Yes, social media creatives are extraordinarily versatile and do not wear out with changing trends and possibilities. This factor depends on how the creatives are created and based upon. Being the top social media creatives company in Delhi, we design creatives that are versatile and do not wear off after changing trends.
How do you generate ideas for your creatives?
We own the necessary knowledge and brainstorm as a team collectively to generate the perfect ideas for your company. After acquiring notoriety for being one of the top social media creatives company in India, we make sure that our  previous experiences help us give birth to new ideas that are unique and good-looking.