Corporate Identities Designing Services
A corporate identity is a process in which corporations or firms represent themselves to the public. The main principles of corporate identities designing services are to build a brand image and reputation. Corporate identity provides a personality to your business and helps people navigate the true motive of your business strategies. Corporate identity helps in the recognition of your brand and building a sense of acknowledgment towards the firm.
Corporate identity includes company name, Copywrite, tagline, logos, etc, all coming together to form a business plan and strategy to attain consumers' attention and recognition. 
Suppose you are looking forward to creating an efficient corporate identity for your firm and wanting to help audiences resonate with your reputable brand identity. In that case, we are here to help you by providing our corporate identities designing services in India. At Webgross, we make sure that our hard work is reflected in our results.
We fit in proficiently and prove to be a great addition to your team. We possess the requirements that will help your business to reach new heights. Our services are abundant in perfection and tranquility, and we are in ownership of our hard work and strong work ethics required to run a business. We are the top corporate identities designing company in Delhi, and we make sure that we incorporate the necessary seriousness and hard work that you anticipate from us
Points To Remember About Our Corporate Identities Designing Services
We are the top corporate identities designing company in India, and living up to such an honorable reputation means that we work tirelessly to attain perfection and client appraisal. Our sheer research and hunger to achieve new heights have made us one of the top corporate identity service providers.  We specialize in monolithic, endorsed, and branded corporate identities and choose the applicable type after carefully curating your business personality.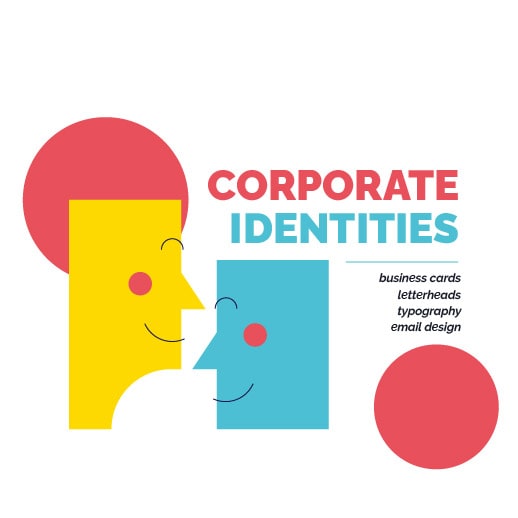 Why Hire Us For Corporate Identities Designing Services?
Webgross is one of the top corporate identities designing services in Delhi that caters to several clients and deems clients' and consumers' approval to get our work done. We possess the necessary hunger and enthusiasm required to assist you. We guide you in every step of your business strategies and love mentoring and coaching our clients to gain new heights. Our team works together and does not entertain any conflict of interest.
Designing individual elements


We design each element after careful consideration and efficient teamwork. Our corporate identities designing services in India include a range of designing such as designing logos, choosing the correct font size, creating an apt tagline, and deciding the perfect infographics style that builds the brand identity that can communicate yourself to your competitors and stand every odds of being defeated.
Expertise and knowledge


Our staff is highly knowledgeable when it comes to corporate identities designing services. Being one of the top corporate identities service providers, we make sure that our staff learn the importance of punctuality and discipline and prove this aspect in their work. We hire professionals with astounding work experiences that do not fail to disappoint our clients. We host an extensive resume and take pride in our services that reach a diverse audience.
Scalable and flexible


The corporate Identity we create is such that it can withstand change and evolve with the brand as it progresses to new heights. Our corporate identities designing services in Delhi have a visual as well as a mental impact on the people. We create such a good reputation that consumers would be tempted to avail themselves more of your services.
Identifying competition


We identify your most formidable competitors after carrying out extensive research and come up with new ideas to provide a nail-biting fight to them. We make sure that your firm triumphs among the competitors and creates such a strong brand image that withstands every possible outcome of dooming. Our corporate identities designing company recruits experienced staff who have the skills to push your firm to great heights in the people's minds.
Expertise in designing


As a

corporate identities designing company

, it is our top priority to gain your appreciation. We have a team that is abundant with experiences in apps such as Photoshop and Dreamweaver. They have the knack to deliver the suitable logo and color that speaks about your brand just by visual cues. We also help build the correct web designing and photography that resonate with your brands' purposes.
Contact Us Immediately for the Best Corporate Identities Services
As the top corporate identities designing services in Delhi, we live up to our standards by providing you with the best of services. We want nothing more than to see your business attain extensive heights of success. Contact us at our email address or phone number given on our website to work with us.
What are the characteristics of an excellent corporate identity?
An excellent corporate identity's characteristics is that it withstands numerous competitions and is cohesive and flexible. It must be able to mold itself and endure changes in the firms' fluctuations and maintain itself in its quest for distinctiveness and uniqueness. As a corporate identities designing company, we make sure that our company follows these guidelines to help you build the best brand image.
What are the types of corporate identities?
The three types of corporate Identities are Monolithic, Endorsed and Branded. Monolithic is where an entire company uses the same style, logos and visual cues. Endorsed corporate identity is when the smaller companies under a standard umbrella parent company have their distinctiveness and mention their parent company. Branded corporate identity means the organizations have different visual and strategic cues, and it is hard to classify the parent company. A corporate identities designing company like ours has the appropriate knowledge of the correct usage of these types for your firm.
Why is a corporate identity important?
A good corporate identity builds trust and a feeling of loyalty among consumers. Consumers tend to get attracted to firms that they remember. Corporate Identity helps to maintain a brands' personality and reputation.  Corporate identities designing services create an identity that remains unswerving and easy to remember and influence audiences attitudes.
Are your services expensive?
Our services are not expensive and are very budget-friendly. We believe in quality over profit-making and see to it that you pay only the prerequisite amount without any hidden costs. As the top corporate identities designing company in India, We make sure to provide you with a cost-friendly experience.
Who is going to own the final work?
Once we have completed your project and the final payment has been made from your end, the final work is going to be all yours!