Best Responsive Website Design Services in Delhi​
Creating and developing a website with customizable formats that adapt to each user's computer is referred to as responsive website design services. Sensitive websites adapt and show to any device or screen size, providing a pleasant experience for your website users. It works on any computer with any screen size. You can create a cohesive web design with a visual composer that can accommodate any user and computer. Since you only have to manage one platform, it's both cost-effective and reliable. There are so many reputed responsive web design service companies in the market.
Hiring the best is a crucial task. We prefer responsive design over mobile design for online platforms at Webgross, a popular responsive website design service company in India, because we think responsive websites deliver a more cohesive interface that is more accessible, simpler to use, and forward-compatible than other mobility applications.
When a client resumes surfing or making a purchase on a smartphone, or when a visitor moves from their mobile to a computer to continue researching your business, a responsive site eliminates any jarring feelings. Hence, responsive website design services are in huge demand currently. With no "trial and error," we can build awesome responsive sites. We also give you everything you need to construct, deploy, and manage a responsive website.
Our responsive website design services will create an appealing website
If you want to convert a current site to a visual composer or create a brand-new responsive design, Webgross has the expertise and tools to help. Small-to-midsize companies seeking to create a responsive platform prefer us because of our award-winning engineering and design team. Make your website available on any platform with our responsive website design services in Delhi. A responsive design helps your company to reach everybody in your target audience, from tablets to smartphones to laptops. The use of responsive design ensures that your advertising and cinematic design are consistent across all devices.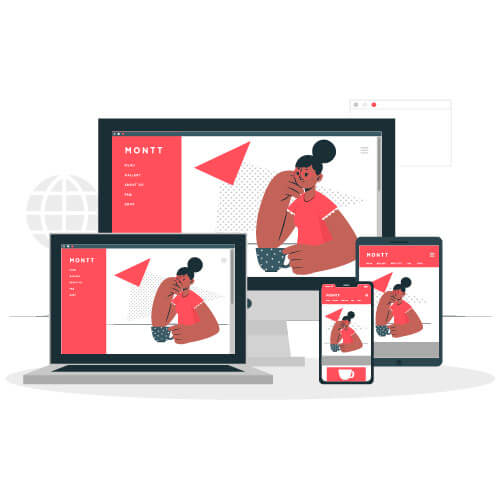 Why hire Webgross for responsive web design services?
Mobile devices account for more than half of all Internet traffic worldwide. A responsive website design is required if you want to expand your company. We supply your organisation with a flexible and attractive website that attracts leads, traffic, and revenues with our brilliant responsive website design services. 
For a variety of purposes, Webgross is a reputable provider of responsive website design services in Delhi, including:
Experienced community


We have a squad of responsive web designers with years of knowledge. Our team stays up to date with all pixel perfect best practises and is still reading and learning about different approaches to provide the ultimate

responsive website design services.

Since you won't have to pay for any testing, innovation, or trial creation, our responsive web design costing is kept low by our experience and expertise. 
Competencies


Our capabilities as a full-service organisation extend beyond responsive website design. Since we have a team of skilled web designers, we can also assist the business in other fields such as SEO, social media marketing, and pay-per-click (PPC) ads. Thus, while being with us, you can't only get a responsive design, but various tactics for taking it to the top as well. 
Brilliant outputs


At Webgross, we assess our progress by the success of our clients. We want to help the company achieve the goals that motivate it to build a responsive website, such as increasing revenue or increasing website traffic, and we can. We offer the best

responsive website design services and that too notably at the best possible price. 
Customer assistance


We care for your satisfaction, and it shows. Because of our client-centric approach, 91 percent of our clients choose us as their long-term associate, whether for website maintenance or SEO campaign management. It's also why our customer referral score is 488 percent higher than the industry average. Our firm comes under the best

responsive website design services in India.
 Experimentation


Webgross gives you the trust to invest in responsive web design because we've launched over 1000 websites. Our team will assist the company in transitioning to a responsive design, as well as launching a brand-new design if needed, using our qualifications.
Try our responsive website design services now!
Today's businesses need a sensitive website. If you're an internet – based company, you'll need responsive website design services to help people find and learn about you, as well as to encourage them to buy your goods or visit your physical place. To learn more about how to launch your responsive platform, contact us online or call us for further details.
How would I know that you will offer me quality content?
We have a team of experienced and skilled SEO content writers, and we have been offering services for the last 4 years. Being an organization, we have become one of the counted places for producing quality content, which speaks for the quality of the services we produce to our clients.
How much do you rate per article?
The content's rates in specified into ranges by looking at the complexity of the product and the effort and time taken into it.
Are you mastered in producing SEO-friendly content?
Being a digital marketing agency, having experience for over many years, we work with skilled and experienced content writers who are mastered in providing SEO content writing services to the clients.
Do you serve internationally?
Yes! We serve globally, and for more information regarding our website and services, you can visit our website. You can also associate with us one the given mobile number and email address to know more about our organizations and services.
Do you charge extra for proofreading?
No, we do not charge any extra hidden amount for proofreading. We produce content along with editing and proofreading at the fixed charged amount.
Do I have to pay in advance?
Yes, you have to pay 50% of the amount at the meeting time for further services.