PSD to HTML Conversion Services
Social media sites have proven to be one of the most effective mediums for companies to boost their sales. However, if a webpage fails to attract and hold the user's attention, it is a waste of money. As a result, website owners are still on the hunt for new ways to improve their site's effectiveness. One of the methods for creating a visually pleasing and persuasive website comes under the PSD to HTML conversion services. This transition technique is used by the majority of successful entrepreneurs to build websites that are not just visually pleasing but also cross-browser compatible. 
Many founders' dreams become a reality thanks to our PSD to HTML service. Webgross is a leading PSD to HTML conversion company that helps companies achieve long-term success. We've been evolving by using advanced functions and innovations. With your PSD projects, our developers build fast-loading, high-ranking, and high-performing websites.
To improve the outcome of our Photoshop to HTML operation, we use elegant chromatic aberration and personalized animations. Webgross is the finest PSD to HTML conversion company in Delhi and has skilled experts who work diligently. We strive to provide value creation by keeping viewers involved, and we ensure that our code complies with W3C standards, is SEO friendly, cross browser compliant, and completely semantic.
[contact-form-7 id="455" title="team"]
To get a fully Customised Design, use our PSD to HTML Conversion Services
Our programmers are well-versed in the method of flawlessly transforming your designs. We treat every template format appropriately, whether it's Sketch, PSD template, PDF, Adobe XD, PNG, JPG, AI, EPS, or any other related choice. Our brilliant PSD to HTML conversion company in India adheres to successful coding standards to ensure that any usage has the same naming scheme and thus meets the clients' requirements. To build a new HTML code that reaches out, we used custom key capability as well as WCAG 2.0 for web usability.Our team of highly trained, seasoned, and innovative Front-end Developers excels at fulfilling the most demanding needs of customers and offers the best PSD to HTML Conversion Services in India with a rich UI.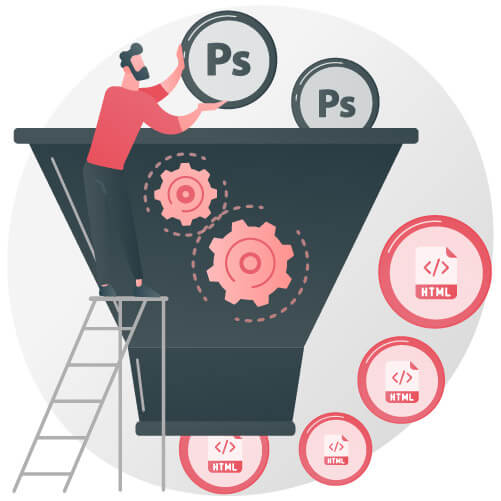 Why Webgross for PSD to HTML Conversion Services?
To enjoy the various advantages of converting a website from PSD to HTML, it is critical to hire professionals with experience in such dramatic change. Webgross is a persuasive choice for business leaders. Our engineers use HTML5 and CSS3 tags, as well as Front End Frameworks like Twitter Bootstrap and Foundation, to follow the most recent technology requirements. Thus, we provide the best PSD to HTML conversion services to our clients all over the world. Hiring one of our professional web designers will assist you in obtaining cutting-edge PSD to HTML conversions with highly skilled coding that supports the most recent and common browsers.
Perfect pixels


We have a pixel-perfect Photoshop template to HTML/CSS code conversion, maintaining 100% consistency in each pixel. To maintain quality, we execute each step meticulously, from slicing to manual coding.
More than 30 devices used in research


We take monitoring very carefully and conduct obsessive stress testing on more than 30 equipment to ensure better navigation, efficiency, presentation, convenient usage, and more. Hence, our

PSD to HTML conversion services

are efficient and optimal.
Semantic Coding for SEO


Our

PSD to HTML conversion company

writes SEO semantic code that improves the efficiency of your website and makes it more searchable. The webpage's prominence in search engine result pages will improve.
SASS/LESS


To standardise and accelerate the web development process, we use modern CSS preprocessors such as SASS and LESS. We build portable and structured code with preprocessors.

 Enhanced for faster loading


We optimise images, CSS, HTML code, and other tools to ensure that loading speed is improved, which will improve the efficiency of your website. It will also help your site's search engine optimization.
Get Started with our PSD to HTML conversion services!
If you'd like a new design, homepage, video, marketing strategy, or excellent PSD to HTML conversion services, getting a well-thought-out design document is essential to making the project successful. Call us for amazing offers and packages available right now. We would be more than happy to serve you. Our whole team of experts dedicatedly performs its tasks for your utmost satisfaction. 
What is the difference between PSD and HTML conversion?
Photoshop documents are converted to HTML and CSS code using the PSD to HTML method. It is the foundation for creating a website. In Photoshop, a graphic artist will create a site that a front-end programmer will use to create a fully functional website.
In web development, what is a PSD file?
A Photoshop configuration file is known as a PSD. Actually, it stands for Photoshop Document, which is an Adobe-only file form. Photo editing is the most widely used website creation tool, and it performs better for the design-to-code method.
What is the procedure for converting PSD to HTML?
The measures to transform the PSD to HTML are outlined below.
Have all of the required PSD Design elements

Front-end technologies, such as CSS, HTML, and JavaScript, are needed.

Prepare PSD files for conversion.

Start by creating an HTML layout.

Focus on various parts when marking up HTML.
Do you make sure the transformed website is fully mobile-friendly?
Yes, we created websites with templates, content, and component sizes that fit various screen sizes. Our PSD to HTML conversion service follows optimization principles to ensure that the website works well on all platforms.