Newsletter Designing Services
Newsletter designing services are an essential mediator in effectively conveying a message. It helps to replicate your message to the audience without any confusion. Newsletters play an essential role in promoting business services and putting forward actual content about the same.
It establishes trust and dependency on an organization along with engendering traffic on your website. Newsletters maintain the relevancy and purpose of a business by habitually updating audiences about their updates and acquainting them with new information that is easy to grasp and understand.
Without a sleek design, the importance of content decreases. If you are looking forward to joining a company that designs attention-grabbing newsletters, you have come across the right website!
Webgross has earned its reputation as being the top newsletter designing company in Delhi. We are very flexible and adaptive when it comes to grasping instructions and demands. Our team of trained professionals make no haste in their respectful jobs and deliver quality content on time.
We explore our potential by giving our clients the most satisfactory outcomes and having the necessary valuable qualities to bring the best results to the table. We follow a strict set of rules for delivering the best results and implementing an effective strategy for the same.
Keep Coming Back To Our Strategies For Newsletter Designing Services.
Our newsletter designing services prove to be of great benefit in generating sales and creating a good report with the audience. We regularly update our newsletters based on your requirements and make sure that audiences resonate and understand your business motives strongly and clearly. We do not fail to miss the mark on curating the best designs for you and your target audiences and making them stay fixated on reading the newsletter recurrently.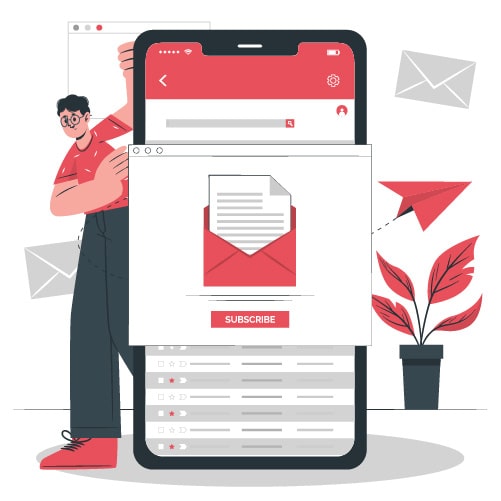 Why Hire Us For Newsletter Designing Services.
Our creative team of skilled professionals has been mesmerized with creativity and possesses the knack for its appropriate usage in the corporate world. We could be an excellent asset for your company if you chose to work with us. Our sheer appetite for perfection and client satisfaction has helped us attain new heights and earn a reputation for being one of the top newsletter designing services in India.
Call to action-

Our

newsletter designing services

call for immediate action by attracting customers via quality-driven content and modest coloring. We make sure that our designs keep the audiences engrossed in reading more and take time from their busy schedules to know more about your company.

Brevity

– As a reputed

newsletter designing company

, we do not compromise with the time and sources of your target audiences. We refrain from cramping dense information and stick to limit it to one page. Audiences tend to steer clear from densely packed information, and being aware of this, we avoid cluttering of information to the maximum.

Exclusivity

– Our

newsletter designing services

lack monotonous designs, and we stand out from our competitors because of the uniqueness of our designs. We make sure that we add a touch of individuality to our designs while catering to your suggestions and necessities.

Adding strategic pops of colors

– Strategic colors create a feeling of in-depth visual interest in a curiosity-bound consumer. Audiences avoid seeing bland designs and take no notice of bland and lifeless designs that serve no purpose in highlighting a piece of information. Our colors used are not too vibrant but attractive enough to capture attentiveness. As the t

op newsletter designing company in Delhi

, we know using the right fonts and colors that match the description and purpose of your organization.

Evoke emotion

– A good design evokes emotions and tempts the audience to engage with your newsletter. The knack for inducing emotions is what makes audiences subscribe to your newsletter and stay loyal to it for the long run. Lack of emotions signifies disinterest which leads to canceled subscriptions and lesser generation in traffic. As a

newsletter designing company, i

t is our job to showcase your products and services with a touch of emotion-inducing design.
Stop The Hal And Grab The Best Newsletter Designing Services.
We incorporate strong values when it comes to delivering designs for our consumers. Having an array of lists of our many resumes, we have taken this as a lesson to grow more and understand a client's expectations. Please contact us on our given email address and number provided on our website if you wish to avail of our fantastic newsletter designing services.
What factors contribute to a fantastic newsletter design?
Developing a robust color palate along with having fun with animations makes for a fantastic newsletter design. Experimenting with colors that make the content shine and stand out also goes a long way in attaining the best newsletter design. As a newsletter designing company, we provide expertise in all these factors and make sure that we include all of them in our process.
What are the five elements of an operative newsletter design?
The five elements of an operative newsletter design are Brevity, Story-telling, Call to action, Reader Focus, and Design. A good newsletter designing company like ours takes care of these five elements while working on the research and design creation.
What are the types of newsletters?
There are three types of the newsletters-company newsletter, consumer newsletter, and organization newsletter. All three serve the same purpose of generating an audience and increasing sales and profits. As a newsletter designing company, we have experts and professionals that design all three types based on their objectives and purpose.
What should be included in a newsletter?
A newsletter must make sure to include the company name, company story, employee of the month, job vacancies, industry news, behind-the-scenes tour, and frequently asked questions. This information should be combined in under 200 words to generate high clicks on a website. Newsletter designing services highlight this information through efficient designing strategies and sentiment-inducing plans.
What makes a good newsletter design?
Newsletter designing services make sure they give the email a proper touch of personality. Adding section headlines and giving the headline a catchy feeling also gives out a good result. Deciding on a particular font and color while knowing the target audience helps to design a beautiful newsletter.