India has emerged as the 3rd largest ecosystem for startups, fostering almost 99,000 startups in the country. Digital marketing for startups is an essential part of their journey. The actual game of digital marketing requires extensive work, starting from compelling social media marketing to consistent Search Engine Optimisation. Fortunately, many startups are doing it right! In this article, we will uncover how digital marketing for startups is nailing their marketing game.  Read on for detailed insights into these startups!
Why is Digital Marketing So Crucial for Startups?
Digital marketing for startups is an integral part of their success journey. Better digital marketing positions your brand apart from competitors. Here are all the reasons why digital marketing for startups is so crucial in this technology-driven era:
Reaching Target Audience:
Coming up with a solid plan on Digital Marketing for startups is one of the most accessible and easy ways to reach your target audience. The wide scope of digital marketing lets you target your audience precisely using interests, behaviour, demographics, and location. No other form of marketing gives you this precise result than digital marketing does. A well-thought-out digital marketing strategy for Indian startups ensures that their marketing results are directed right at their targeted users.
(Image Source: https://pixabay.com/illustrations/target-audience-buyer-persona-7733218/)
Easy on Budget:
Startups are in luck with digital marketing as it does not require having hefty budgets like traditional forms of marketing. Digital marketing for startups promises they extend audience reach without having to spend much. It utilises affordable social media platforms like Facebook, Instagram, Linkedin and other content creations that are easy on your pockets. Even the advertisement techniques used in digital marketing are easy to afford and access.
Enhanced Brand Visibility:
To be able to establish its name in the market, startups need a strong digital presence. Digital marketing for startups offers a plethora of techniques like SEO (Search Engine Optimisation) and Content Marketing techniques to boost brand visibility online. When people are well aware of your brand, they choose you without a hitch. Online advertising and social media marketing also play a major role in increasing your brand visibility against competitors.
Quantifiable Results:
Digital marketing for startups ensures that they have access to analyse their marketing efforts in quantitative terms. As a startup, you can measure the output of your marketing campaigns via real-time data, charts and more. It gives you a better idea of web traffic, engagement rates, conversion rates, and user behaviour. Relying on this data, startups exercise flexibility and optimise their marketing efforts accordingly.
Adaptability and Flexibility:
Startups are dynamic in nature, meaning that a rapidly changing environment constantly surrounds them. Luckily, digital marketing gives them the flexibility to adapt to changing marketing trends, industry developments and consumer preferences. Startups can seamlessly modify their marketing messages, campaigns and other strategies in real-time. With such adaptability, startup ventures can easily stay ahead in the game and give tough competition.
(Image Source: https://www.rankontechnologies.com/wp-content/uploads/2022/06/08-1.jpg )
10 Examples of Exceptional Digital Marketing for Startups
When you scroll through the feed of famous startups, you can tell they are doing something right that others aren't. From leveraging hyper-personalisation in marketing to keeping up with pop culture, their digital marketing efforts are on point. Below are the 10 examples where digital marketing for startups has done wonders for scaling up their businesses.
1. Car Dekho
Founded in the year 2008 by brother duo Aurag and Amit Jain, Car Dekho is an online car marketplace that lets users buy and sell cars. The platform also provides a number of car services like financing, insurance and maintenance. Car Dekho is definitely at the top of the list of Indian startups that have set an example of how to leverage the power of digital marketing for startups. Car Dekho employs several digital marketing strategies along with traditional marketing methods. Car Dekho ranks on top in the search engines, and it's all because of its conscious content marketing efforts. 
The startup targets high-quality keywords in a way that differentiates them from competitors. They have also made their website mobile-friendly for the users of India. Digital marketing strategy for startups like Car Dekho also includes their plan to launch their mobile app for iOS, Android and Windows. Email marketing is one technique that made Car Dekho attract a massive customer base. The company delivers promotional emails to their subscribed customers every day, which increases their site visits exponentially.
2. Policy Bazar
Policy Bazar is the leading insurance marketplace in India. It was founded in the year 2008 by Yashish Dhahiya and Alok Bansal. Besides many competitors, Policy Bazaar still manages to rank itself on search engines. The startup utilises various offline marketing sources like television, print and others. However, their digital marketing strategy is topping it all. 
Policy Bazaar believes in creating content that increases the engagement from users. Their strategy can offer many valuable insights for those trying to understand the value of digital marketing for startups. With its massive network in India and the UAE, Policy Bazaar focuses its digital marketing efforts on content-led marketing techniques. It also leverages the benefit of SEO to optimise or streamline its content, which has resulted in tangible results. Policy Bazaar has a robust digital presence on all social media platforms like Facebook, YouTube, Twitter and Instagram. From how-to tutorials for insurance purchases to the benefits of opting for insurance, Policy Bazaar covers it all in its user-friendly content.
3. Zomato
Zomato is a renowned digital food giant brand founded in the year 2008 by Deepinder Goyal and Pankaj Chaddha. It was first founded as 'FoodieBay' but later renamed as 'Zomato' in 2010. This startup is one of the well-known examples of how digital marketing for startups can do wonders across all platforms. From witty and humorous tweets to trendy Instagram posts, Zomato's digital marketing is beyond the standard marketing techniques. 
This food giant brand leverages the hyper-personalisation in all its marketing campaigns. They believe in creating marketing copies that speak directly to unique customers. The meme marketing efforts of Zomato are also working towards its strong digital presence. Zomato comes with intriguing seasonal campaigns for monsoons and other festivals in India. For SEO, Zomato targets the top keywords in its niche and generates webpage URLs for the same. As of August 2023, Zomato gets backlinks from almost 1.2 crore domains, including backlinks from high-authority domains.
( Image Source: https://strategysoda.com/wp-content/uploads/2022/07/zomato-digital-marketing.jpg
4. Boat
Boat is a prominent consumer electronics brand founded in the year 2014 by Aman Gupta and Sameer Mehta. The brand provides affordable and fashionable audio products for users. Boat stands as the 5th largest wearable brand across the globe, and it's all because of its effective offline and online marketing techniques. Boat speaks to the audience in their language using hyper-personalisation in their marketing efforts. 
The startups utilise the benefits of influencer marketing by getting on board famous celebrities, influencers, content creators, stylists, and even cricketers. The Boat is successfully receiving gains from its mobile marketing, email marketing and social media marketing efforts. It is also one of the leading brands that have coined the benefits of hashtag marketing with unique hashtags #whatfloatsyourboat, #boatheads, #trebelwithboat, #levelupwithboat and #raisethebar.
5. Sugar
Sugar Cosmetics is a premium cosmetic brand in India launched in 2015 by Vineeta Singh and her husband, Kaushik Mukherjee. Sugar Cosmetic operates on the Direct to Consumer (D2C) model and makes one of the best examples of how to use digital marketing for startups to increase their sales. The brand operates on a hybrid marketing model where both online and offline marketing strategies are at play. Sugar cosmetics leverage Influencer Marketing techniques a bit differently than other brands. 
This cosmetic brand turns its customers into influencers showcasing the products on social media. Sugar is ruling digital platforms like YouTube and Instagram, all thanks to its short video content strategy. For content marketing, Sugar delivers content that matches the infotainment (Information and Entertainment) requirements of the users. The brand also utilises email marketing, SEO, telemarketing and other forms of marketing to rule its digital community. Sugar's journey certainly offers food for thought on the vital aspects of digital marketing for startups.
6. Meesho
Launched in the year 2015, Meesho was founded by Vidit Aatry and Sanjeev Barnwal. It is one of the leading e-commerce platforms after Amazon and Flipkart. What sets Meesho apart from other e-commerce platforms is its commission-earning basis for resellers. Meesho is popular among housewives and small vendors who get tangible returns with zero investment.
Meesho holds a good reputation on its social media platforms, where it runs campaigns, engages with its audience and utilises meme marketing to the fullest. Meeshu also promotes its discounts and offers via hyper-personalisation techniques. This startup brand also raised awareness among users with its campaigns like #SabseKamCommission. Meeshu believes in harnessing the benefits of online advertising on platforms like Facebook and YouTube. Currently, Meesho is also engaged in trendy Influencer marketing to witness gains. This is another example of timely identification of the crucial role of digital marketing for startups.
7. Cred
Cred is India's leading Fintech Startup, founded by Kunal Shah in 2018. The platform works towards giving rewards to customers for paying bills. Cred stand out from its competitors with its marketing efforts all across the social media platforms. This startup employs an offline and online marketing mix that includes marketing strategies like social media marketing, personal branding, paid advertisements and so on. 
Content marketing is a big part of the marketing strategy of Cred. The blog section of Cred is brimmed with finance blogs ranking with relevant keywords. As a part of hyper-personalisation in marketing, you can expect to receive personalised pop-ups of discounts and cashback from Cred. The platform is making the best use of moment or viral marketing strategies to get ahead in the game. Luckily, it is working wonders for them too! Cred also organise online marketing campaigns and giveaways that yield remarkable results. Some of its result-driven campaigns include Cake from CRED and CRED Missions.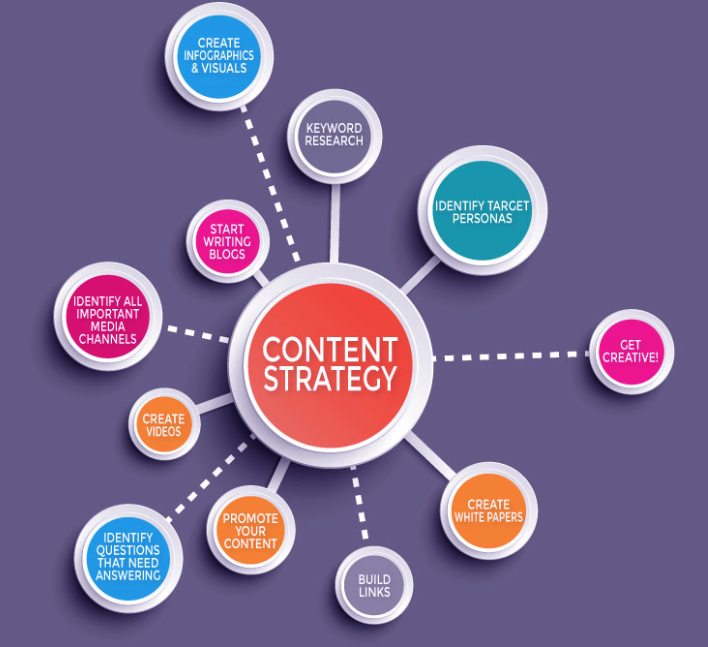 (Image Source: https://www.stanventures.com/wp-content/uploads/2018/02/content-marketing-strategy.jpg)
8. Paytm
Paytm, an acronym for 'Pay Through Mobile', is an Indian platform that facilitates digital payments founded by Vijay Shekhar Sharma. The platform was launched in 2010, and ever since then, it has revolutionised the way digital payments work. From time to time, Paytm comes up with schemes and offers that boost the traffic on its website and mobile application. 
Paytm is highly active on its social media platforms like Facebook, Linkedin, Instagram and YouTube. Their strategy has opened many avenues to learn how to leverage the power of digital marketing for startups. This includes running ads on Facebook, Twitter and Instagram. The platform takes part in meme marketing as well to capture its audience's attention. Paytm believes in raising among its users with social media campaigns like Facebook Live for security guidelines, The Social Mobile Game, MBA Contest, Dabbawallas in Mumbai collaboration and more. The platform also provides SEO-rich content on its website to keep up with infotainment trends.  The digital marketing efforts of Paytm highlight the amount of attention digital marketing for startups actually deserves.
9. Zerodha
Established in the year 2010 by Nitin Kamath, Zerodha is an Indian brokerage company that has revolutionised the brokerage sector in India. Zerodha is a popular brand among customers, making them comfortable with the whole idea of stock investment. The platform launches referral programs and business affiliate schemes to engage more customers on the platform. It still gives Zerodha thousands of leads without having to spend a penny. 
Zerodha aims to keep its users engaged on the platform with quality educational blogs. The platform has gained a position of authority in the eyes of Google, which helps it rank well. Zerodha doesn't give much importance to advertisements on online/offline platforms. Rather, it believes in creating user-centric content to encourage better engagement. The majority of the success in the marketing strategy of Zerodha comes from its unique features on the apps like GTT and Console, among others.
10. PharmEasy
PharmEasy is a renowned health tech startup dealing in online pharmacy and diagnostics services. It was founded in the year 2014 by Dhaval Shah and Dharmil Sheth. PharmEasy is famous for its humongous television advertisement. However, it has also opted for online/ digital marketing strategies to stay ahead in the game. The strategy of this brand has again highlighted the importance of digital marketing for startups.
Being a new-age startup, PharmEasy is seizing the effectiveness of meme marketing in the smartest way. PharmEasy also delivers automated emails and SMS to its subscribers, turning them into regular customers. PharmEasy has harnessed the power of influencer marketing to reach a broader audience and elevate its brand presence. As an illustration, PharmEasy has collaborated with famous influencers. Viraj Ghelani and Sapan Verma. The platform also runs campaigns from time to time, like the 'WFH' campaign, 'Sab uparwale ke hath mein hai' and more.
Final Words
By now, you must be aware of some of the top strategies of digital marketing for startups. From Cred to Zomato, digital marketing for Indian startups has been imperative to their performance on digital platforms. The list discussed above is not just limited to these ten startups. Many startups in India are performing exceptionally well on digital platforms. If you are also a marketer in a Startup, taking notes of these effective marketing strategies might help you scale your marketing operations.
(Image Source: https://merehead.com/blog/wp-content/uploads/6-68.png)