This blog is dedicated to guiding you about content writing and the available courses to learn this skill. We will learn what all they teach you, and how they can help build a career in content writing. These courses are set to kick-start your journey as an efficient content writer in the country's capital. We hope that this information helps you to make an informed decision when choosing a content writing course in Delhi.
We hear the word "content" almost everywhere. But what exactly does this mean? In layperson terms, any form of consumable digital presence is content. This digital presence can take the form of written and visual media. Examples of what qualifies as "content" are everywhere around you. These can be a funny reel, your favorite novel, that website you use to solve college assignments, an educational blog that makes you aware of new things, or even a demonstrative video.
With a growing social media presence, the need to cater to a broad audience requires skilled content creators. But how does one learn to be proficient at creating good quality content that engages with the audience and fulfills the need of the hour? Luckily, the internet age provides just the right solution for this issue. There are numerous courses and lessons that guide learners to pursue this field of creativity. These courses are specifically designed to help even a newcomer feel at ease and learn flexibly and efficiently.
Career in Content Writing
Delhi, being the capital of India, definitely lives up to its standard. The city offers any and everything one can dream of. Be it cultural, professional, educational, or recreational opportunities, Delhi houses some of the best institutes that offer the finest experiences for all domains of life.
As a metropolitan city, Delhi sees the growth of digital and technological development every day. The market has an ever-expanding need for talented individuals who will contribute to this growth. Being well-versed with content writing is a plus point that may give you an edge over all your competitors.
Building a career in content writing may not be the most complex task, but it certainly isn't the easiest thing either. You require the keenness to learn, constant practice, and an eye for new information. These elements are crucial to brush up your skills and help you ace the craft of writing good quality content.
Top 6 Content Writing Courses in Delhi
Several reputed and certified organisations offer guidance and mentorship that will pave the way to build a career in content writing. When searching for a content writing course, check for testimonials, fee structure, syllabus, mode of teaching, and career prospects.
The best content writing courses provider would offer a variety of short and long-term courses that are guaranteed to upskill you and get you ready to earn well. With that, let us look at 6 of the most popular choices for a content writing course in Delhi. These are the most in-demand skills that will land you the best opportunities.
Website Content Writing Course
Whether you are a business owner or a freelancer, having a website is similar to owning a house, but on the internet. Establishing your online presence is the very first step to promoting yourself. However, the journey doesn't stop at just making a website. The content you put up on your website determines the quality of your work.
Therefore, taking a website content writing course is a profitable decision. It will teach you about search engine optimization, writing efficient landing pages and CTAs (call to action), and knowing what content will work for your brand/business.
The advantages of this course go beyond just making your website gain more traffic. It also helps you keep up with the latest SEO trends and adapt your online presence accordingly. This knowledge enhances your understanding of what you need to do to keep your website updated.
The broad scope of website writing includes several content types such as landing pages, newsletters, about us sections, blogs, and compelling call to action. Whether you have your website or want to help others improve their websites, this course is the perfect fit for you.
SEO Content Writing Course
SEO, a popular acronym for Search Engine Optimization, is the strategy that helps you gain more traffic to your content. In simple words, it is the process of optimizing your content in a way that allows it to get a higher ranking on search engines. Combining SEO with content writing becomes about curating content that aims to get a top position upon searching.
For this purpose, an SEO content writing course will teach you about optimizing your content, learning about keywords, differentiating between paid and organic traffic, and keeping up with the changing trends of search engines.
This course is one of the most versatile courses that people from various backgrounds can take. You can be a business owner in need of increasing your sales, a blogger looking to engage with new audiences, or a wish to gain followers. An SEO content writing course will elevate your writing and help you achieve your goals.
SEO writing is a very adaptable skill that can be useful for all types of content. Whether you are a blogger, social media manager, or digital marketer, knowing SEO content writing is a definite plus point and one of Delhi's most popular content writing courses.
Social media writing
All of us are on social media all the time. Whether scrolling through Instagram reels, referencing a popular meme you saw on Twitter, or watching viral videos on Youtube, social media has taken over multiple aspects of our life. But have you ever wondered who comes up with the content ideas for these posts? Yes, you're thinking right. A content writer behind the screen is responsible for the quirky captions and unique hashtags.
Social media writing is the most straightforward form of content writing as it allows more creative inputs and flexibility. With the proper guidance, you can come up with content that engages your audience and gains likes to make you or your client popular. It can be a fruitful idea to take up a social media content writing course in Delhi, as it is easier to find a large target audience in a metropolitan city.
This course teaches you various skills such as keyword research, caption writing, script writing, blogging, and market research. All these contribute to making a fun and engaging social media presence.
Technical Writing Course
As you can guess from the title, a technical writing course has to do with the technical aspects of writing. This may indicate to-do lists, how-to manuals of products, and academic research, among others. It aims to simplify complicated and difficult-to-understand information.
Because of the fast-paced lifestyle and need for quick solutions to everything, technical writing is a somewhat underrated but highly valuable skill. Corporates and businesses are constantly looking for writers who can write simple yet effective descriptions and instructions for their services/products. Due to such demand, knowing technical content writing helps you stand out and be more in order within the working industry. A course will help you brush up on basic skills and learn what the audience needs.
Taking a course will help you learn to pay attention to detail, write in simple layperson language, and increase the user-friendliness of the brand/business. This is an enriching field that can land you high-paying clients or help you generate more revenue for your own brand.
In a metropolitan and developed city like Delhi, knowing technical content writing is a sure-shot path to help you work on big projects with reputed names and increase your clientage.
Product review writing course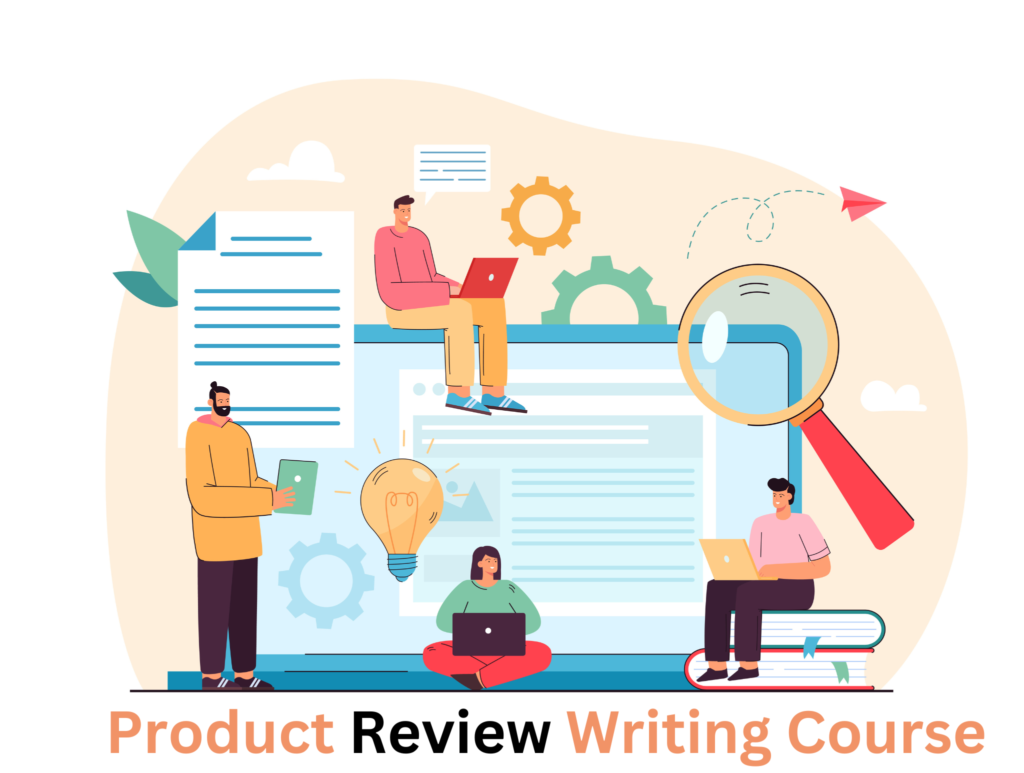 We are no strangers to online shopping. As consumers, we make numerous online purchases for a variety of items. But if you pay closer attention to what you buy, other consumers often leave their reviews of the same product. These are usual consumers just like you who are giving their feedback. But did you know that some people do this as a profession?
Product review writing involves brands collaborating with content writers to extract descriptions and reviews of their products. This attracts new consumers and invites them to try these products.
A product review writing course will help you understand the brand's needs, know how to be unbiased, and write content to attract potential buyers. In some cases, you may even become an affiliate with the brand and get commissions from the purchases made because of your review.
This branch of writing is a good option for those from a marketing or commerce background as they will be familiar with the technicalities of this field. But worry not! Even if you are a fresher, the course is designed in a way that guides you from the basics to advanced levels. The increasing popularity and demand have made this one of the top choices for a content writing course in Delhi.
Proofreading course
If you are still deciding whether to be a good writer, you can still learn an advantageous skill within the content writing industry. Wait, but how?!? Yes, it is possible to be involved in content writing without being a writer.
Proofreading is similar to what an editor might do. Proofreaders focus on polishing the existing content by re-evaluating the language. The main agenda is to correct spelling errors, use the proper punctuation, make sure the content is grammatically correct, and appropriately format the content.
Taking up proofreading courses will help you engage in content writing without having to be actively involved in the writing process. The course brushes up your existing knowledge of language and grammar. It also teaches you to pay attention to detail, analyze the content from a reader's perspective, and enhance the quality of the content.
A proofreader's job is highly needed in companies and businesses creating content on a large scale and looking to improve the standards of the work.
This list has shared the best options if you are looking to take up a best content writing course in Delhi. These courses are convenient, popular, and sure to make you an expert writer. You may be a student looking to explore new fields of work, a professional wanting to make a career switch to something exciting, or a freelancer expanding your skill set. No matter your end goal, these courses are guaranteed to help you achieve high-yielding results. Delhi houses some of the most premium institutes offering top quality courses that will add to your learnings. These chosen picks offer convenience, a broad scope of knowledge, and premium training to help you learn various skills.